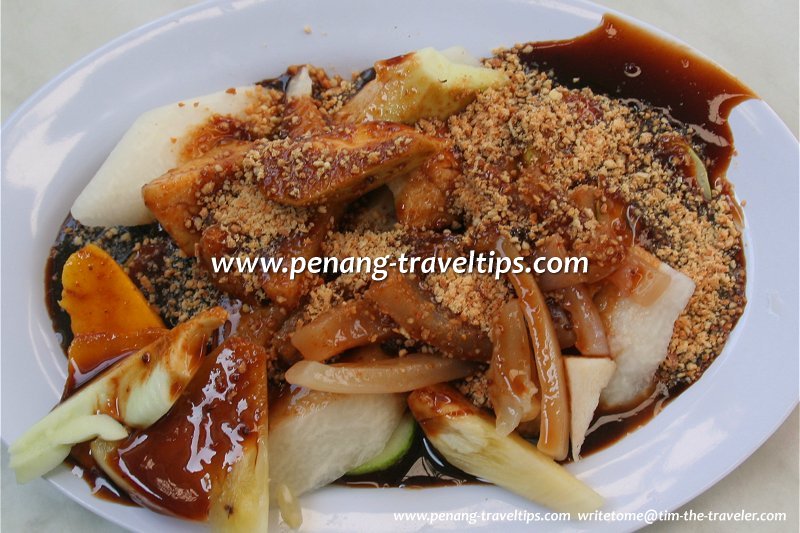 Rojak
(24 May 2008)

Penang Rojak
is a salad dish of mixed fruits including, among others, cucumber,
hongkwak
(turnip), pineapple,
jambu air
(rose apple,
Syzygium jambos
), and green mango. Non-fruit ingredients added to this salad include cuttlefish, jellyfish,
Eu Char Koay
and
Taukuah
(beancurds). Together, they form an eclectic jumble (the term "rojak" is used in colloquial expression to mean an eclectic jumble) served with a dressing of dark prawn paste called
hae ko
(gooey prawn paste) with pounded
belacan
(shrimp cakes), chilli powder, and sugar, and topped with a sprinkling of grounded roasted peanuts and sesame seeds.
A simplified variation to rojak is often sold by itinerant vendors, especially at school yards. This comprises a thick slice of hongkwak topped with the dressing, with a sprinkle of chilli powder, pounded belacan, roasted peanuts and sesame seeds.
Penang Rojak has its own appearance that differ from those found elsewhere in Malaysia and Singapore. To differentiate it from other types, outside Penang, this version is simply called Penang Rojak. The Indian version of the Rojak is called
Pasembur
in Penang although elsewhere in Malaysia, it is called Indian Rojak or Mamak Rojak.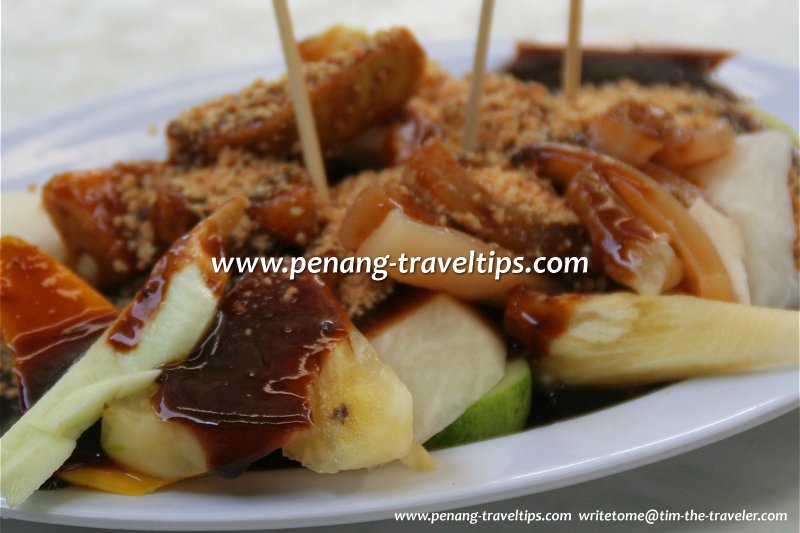 Penang Rojak
(24 May 2008)

Ingredients of Rojak:
cucumber
Chinese turnip
pineapple
rose apple
green mango
cuttlefish
beancurd

You can often find Rojak stalls at night markets. I have also created a food map to make it easy for you to local the stalls that I have come across before. Each number pin on the map correspond to the list, and provides additional description.
View
Rojak Stalls in Penang
in a larger map
Hawker Food Planet Members' Recommendation of where to eat Rojak
Join
Hawker Food Planet
and share your hawker food recommendations, which will be cataloged into this website under
Recommendations by Location
and
Recommendations by Food Type
.
Where to find Rojak
Rojak is available at the following locations in Penang:
I update this website almost every day, adding new pages and updating existing ones. To see the latest updates, please click here. About the author

Timothy Tye

(REN NO. 32418)

IQI Realty Sdn Bhd

Phone: +60-12 429 9844

My name is Timothy Tye. I am the author of this website, coming to you from beautiful Penang, Malaysia, where I'm a realtor. If you're looking to buy, rent or invest in properties in Penang, do engage my team and I to serve you.

PROPERTIES FOR SALE/RENT

Some of our most beautiful properties are displayed in video format.

PROPERTY VIDEOS

Copyright ©

2003-2020 Timothy Tye

. All Rights Reserved.